Safe is solving one of the biggest barriers to mass adoption of web3: custody.
The strategic raise brings together 60+ industry leaders championing smart contract accounts as the standard to unlock digital ownership.
Safe (previously known as Gnosis Safe), a leading digital asset management platform, today announces it has raised $100 million led by 1kx. Initially developed as an internal tool, Gnosis Safe has organically become critical infrastructure for web3 as a means to securely manage digital assets.
Following a successful community vote to spin-off from Gnosis, the Gnosis Safe project is rebranding to Safe and announcing a strategic funding round of $100 million led by 1kx. The round is also joined by Tiger Global, A&T Capital, Blockchain Capital, Digital Currency Group, Greenfield One, Rockaway Blockchain Fund, ParaFi, Lightspeed, Polymorphic Capital, Superscrypt and 50 other strategic partners and industry experts (see below). The funding is raised for the Safe Ecosystem Foundation, a non-profit organization protecting strategic assets and contributing to the further development of Safe.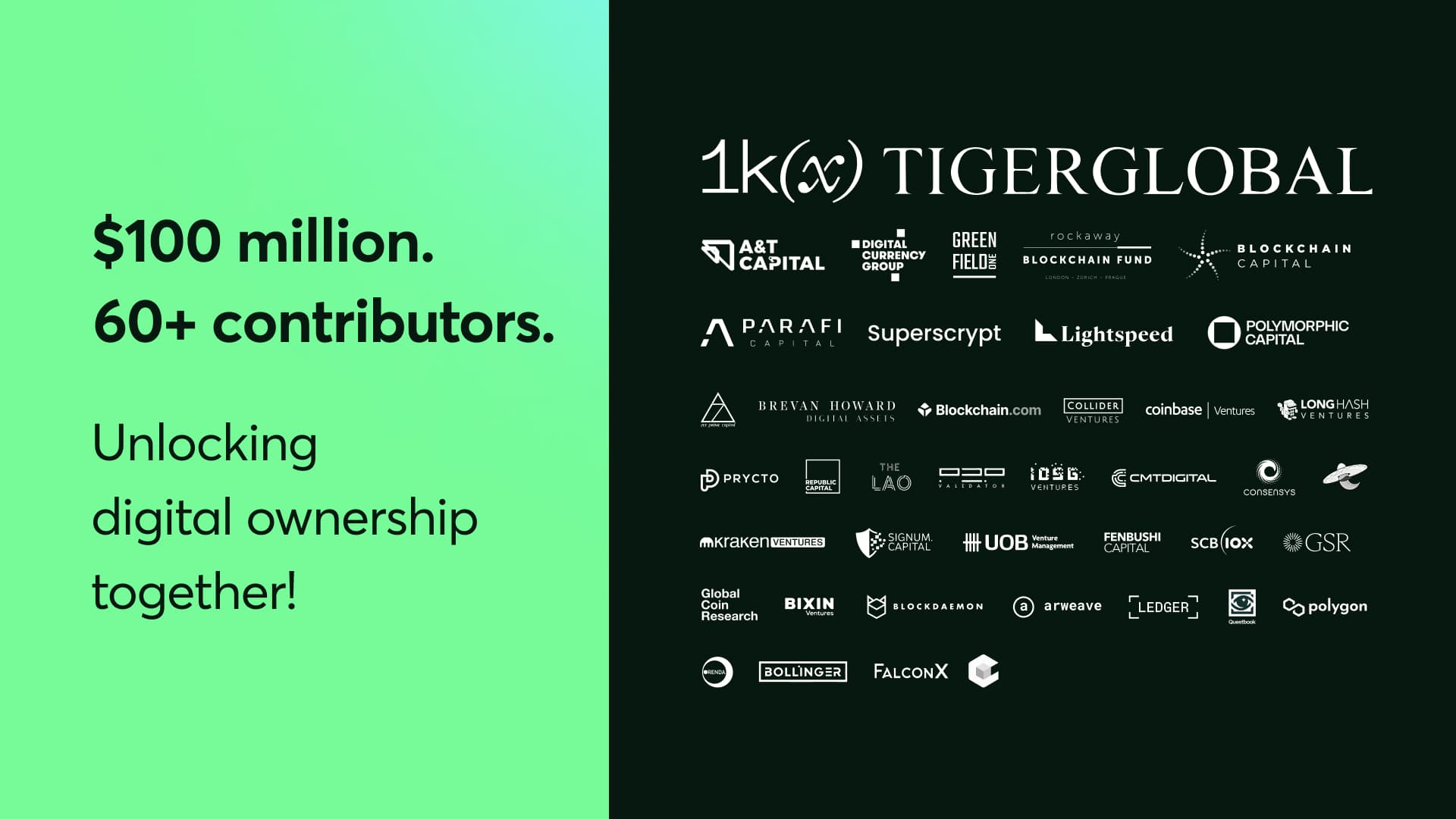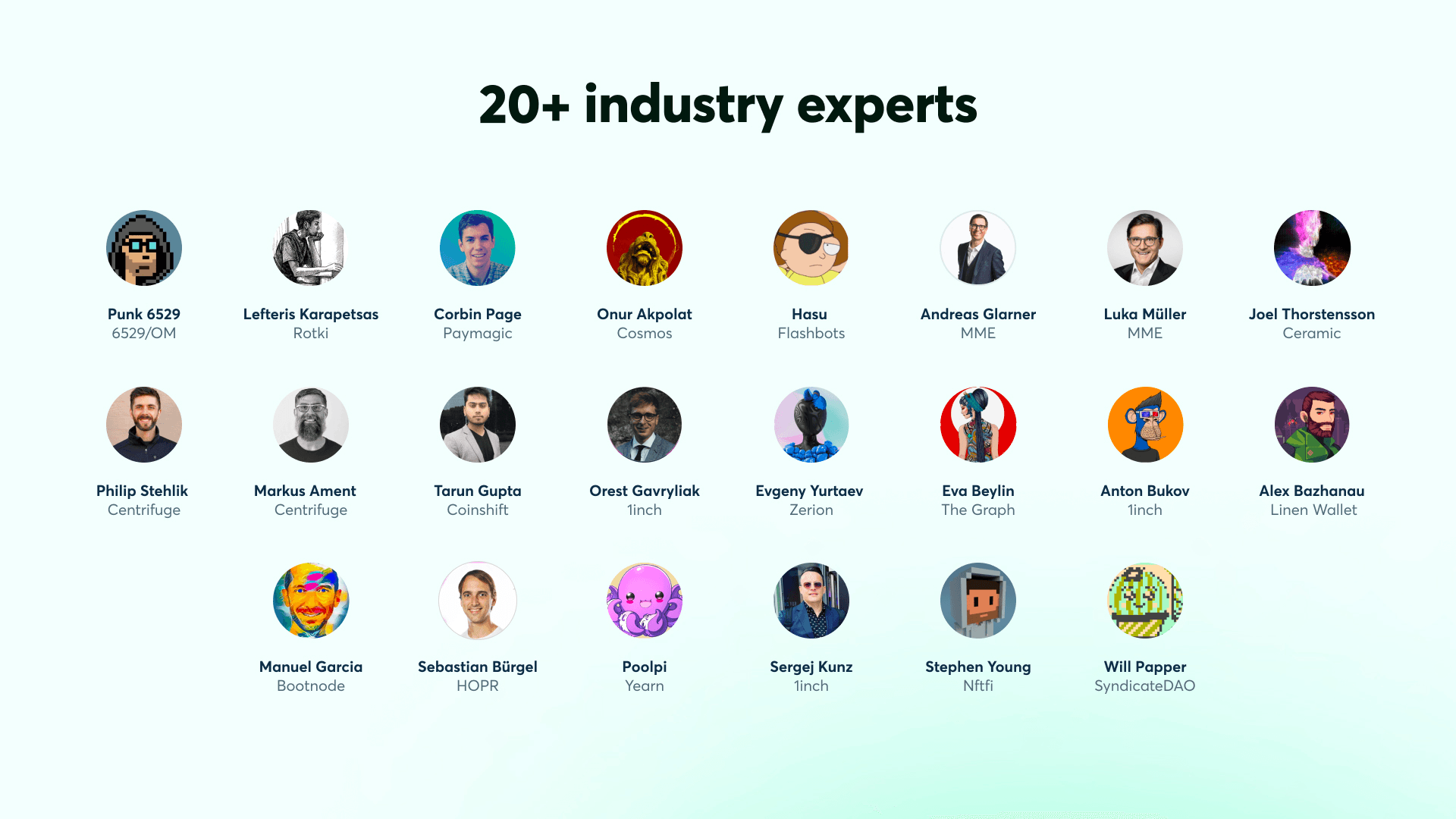 The funding round is an important milestone for the development of Safe as a programmable ownership platform, enabling secure management of digital assets, data and identity across DAOs, retail and institutional users. The funding and strategic alliances will enable Safe to grow an ecosystem of applications and tools on top of its smart contract account protocol.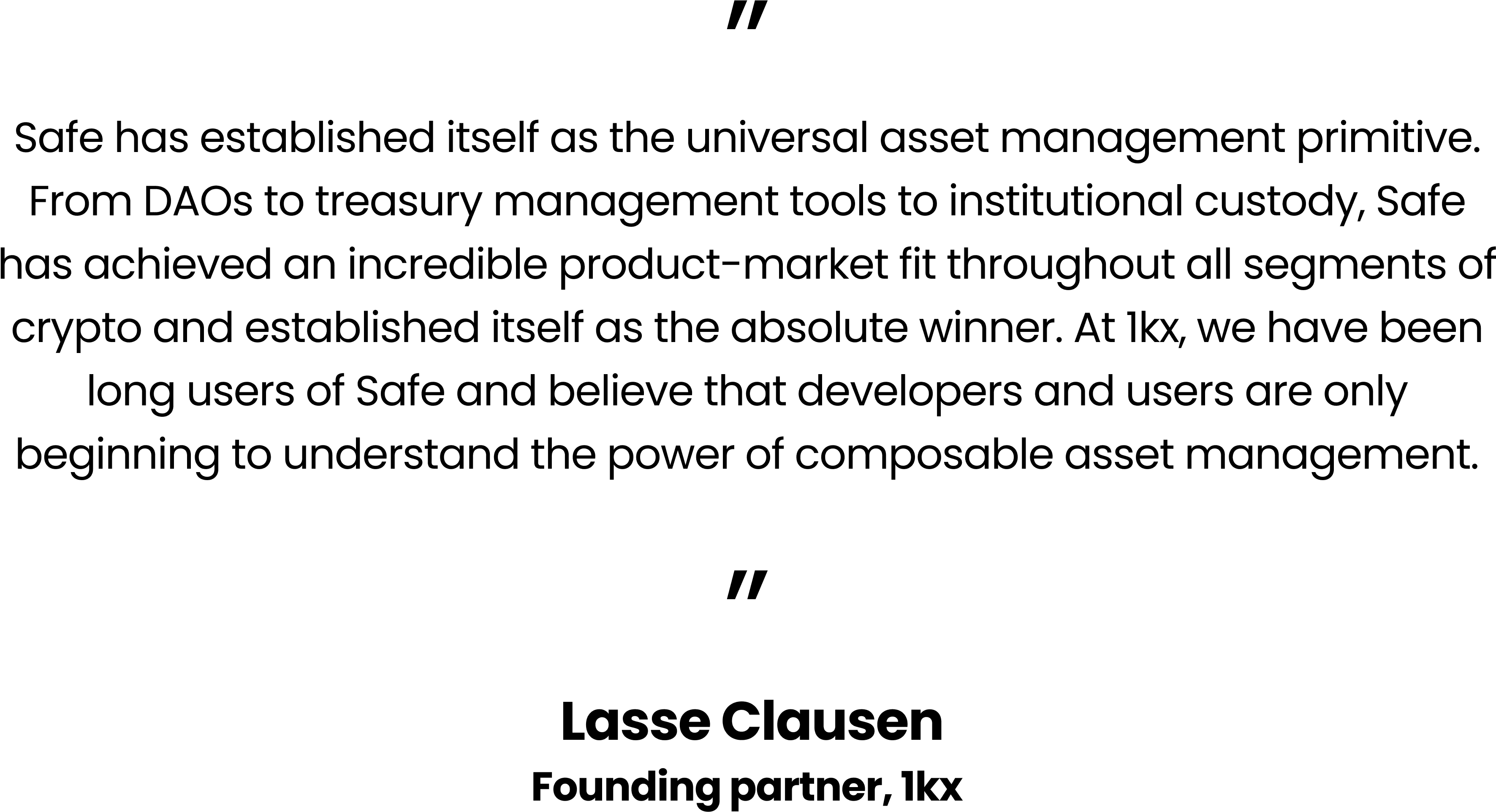 Unlocking ownership for everyone in web3
Safe gained wide adoption for its self-custody solution used to process over 600,000 transactions and secure digital assets exceeding $40 billion. Additionally, many highly valued NFTs, including 13% of all Cryptopunks, are currently secured using Safe.
Safe has built infrastructure that serves some of the biggest DAO treasuries (1inch, BitDAO), financial institutions (Bitfinex, GSR) and enterprises (Shopify, AB group). Also, individuals such as Vitalik Buterin and Punk6529 (participating in the round as an angel) use Safe to secure their most valuable personal digital assets.
Making web3 accounts smart
Traditional web3 accounts are controlled by a single private key, often derived from a 24-word secret phrase. As long as a user owns this private key, they control the account. However, these private keys regularly get lost or compromised, resulting in the complete loss of the assets associated with the account.
Safe, on the other hand, uses smart contracts accounts that can be individually configured to suit the custody needs of different user groups:
Authentications using multiple private keys (multi-sig) or community-control (DAOs)
Recovery and inheritance mechanisms
Improved transaction experience (transaction batching, gas abstraction)
Transaction checks and hybrid-custody
Spending limits and automation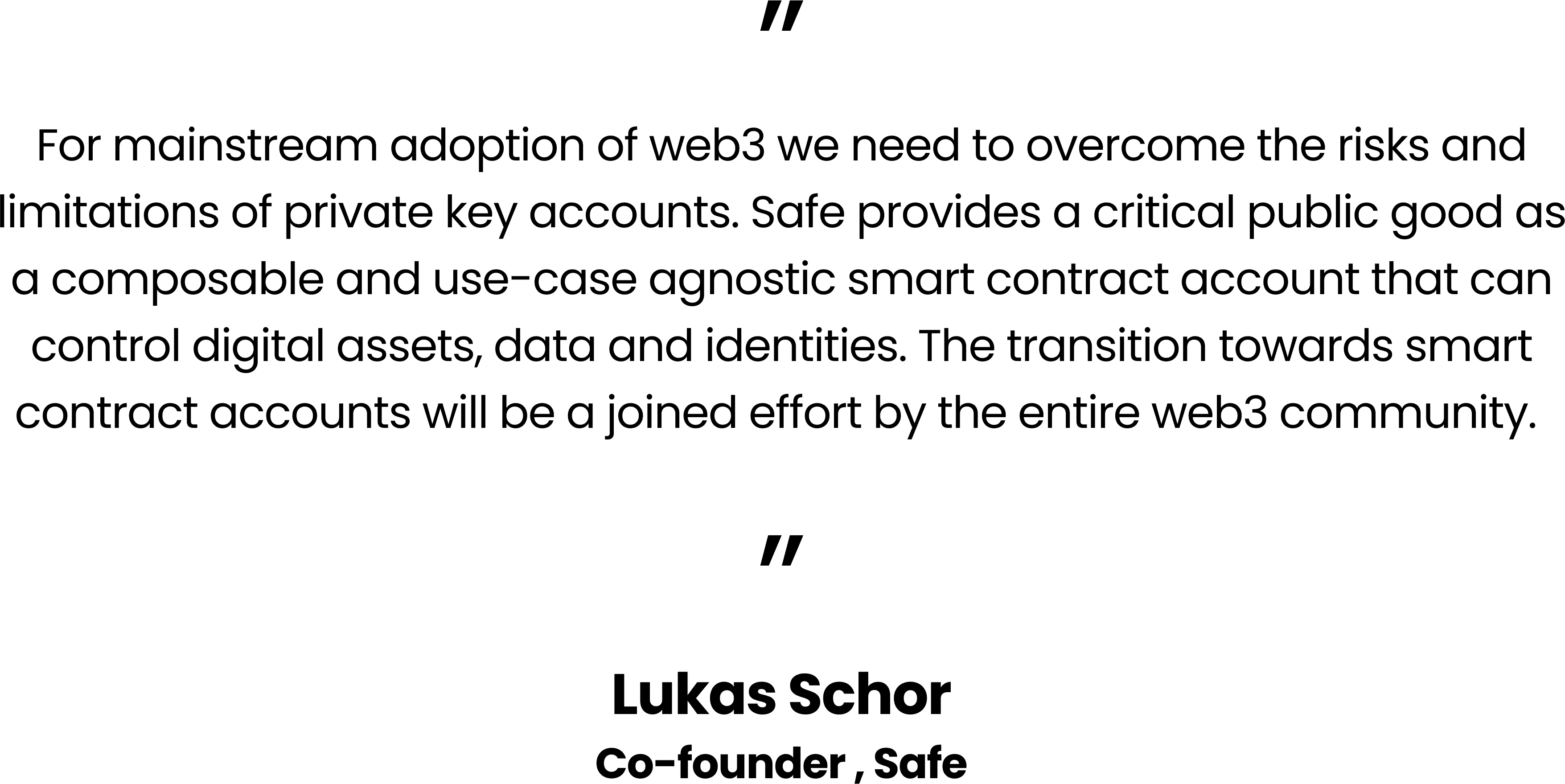 It's not a product - it's an ecosystem
Safe aims to foster a vibrant ecosystem of applications and wallets leveraging Safe smart contract accounts. This will be achieved through grants, ecosystem investments, as well as providing developer tools and infrastructure.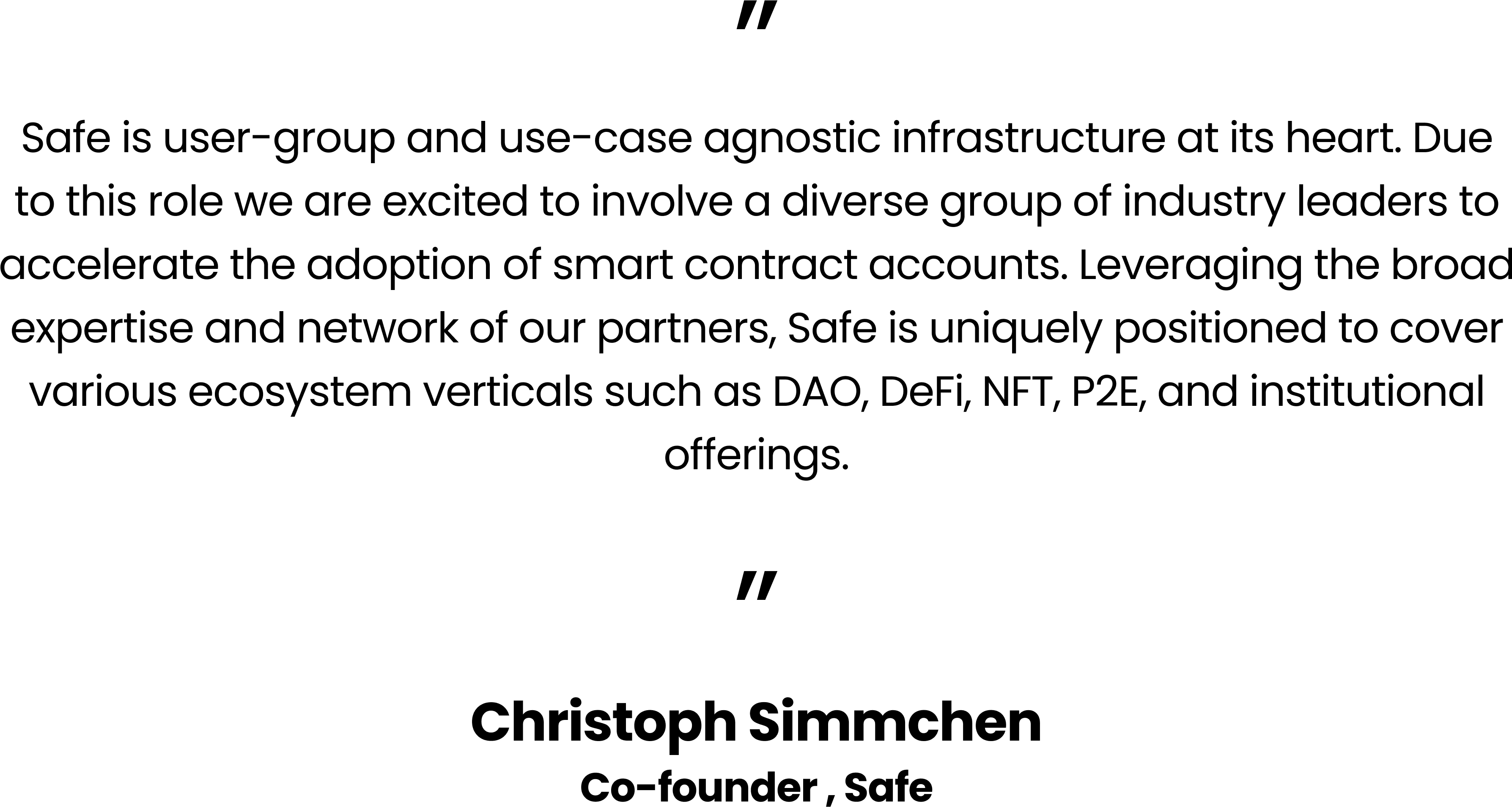 Already today, the Safe ecosystem consists of many teams building on top of Safe. These projects provide specialized solutions across savings (Streams, Linen Wallet), treasury management (Coinshift, Parcel), DAO tooling (Utopia Labs, Orca Protocol), NFTs (Prysm, Castle) and wallets (Rabby, Metamask Institutional).
Explore Safe and be a part of unlocking the future of ownership.
Join the community: Forum - Discord - Twitter
List of Contributors:
1kx
Tiger Global
A&T Capital
DCG
Greenfield One
Rockaway Blockchain Fund
Blockchain Capital
ParaFi
Superscrypt
Lightspeed
Polymorphic Capital
Zee Prime
Brevan Howard Digital Assets
Blockchain.com
Collider Ventures
Coinbase Ventures
LongHash Ventures
Prycto
Republic Capital
The LAO
P2P
IOSG Ventures
CMT Digital
ConsenSys
MetaCartel Ventures
Kraken Ventures
Signum Capital
UOB Venture Management
Fenbushi Capital
SCB10x
GSR
Global Coin Research (GCR)
Bixin Ventures
Blockdaemon
Arweave
Ledger
Questbook
Polygon
Orenda
Bollinger
Cryptocurrency Jobs
FalconX
Punk6529 (6529/OM)
Lefteris Karapetsas (Rotki)
Corbin Page  (Paymagic)
Onur Akpolat (Cosmos)
Hasu (Flashbots)
Andreas Glarner (MME)
Luka Müller (MME)
Joel Thorstensson (Ceramic)
Philip Stehlik (Centrifuge)
Markus Ament (Centrifuge)
Tarun Gupta (Coinshift)
Orest Gavryliak (1inch)
Evgeny Yurtaev (Zerion)
Eva Beylin (The Graph)
Anton Bukov (1inch)
Alex Bazhanau (Linen Wallet)
Manuel Garcia (Bootnode)
Sebastian Bürgel (HOPR)
Poolpi (Yearn)
Sergej Kunz (1inch)
Stephen Young (Nftfi)
Will Papper (Syndicate)